The Riderflex Guide Series
The Riderflex Guide Series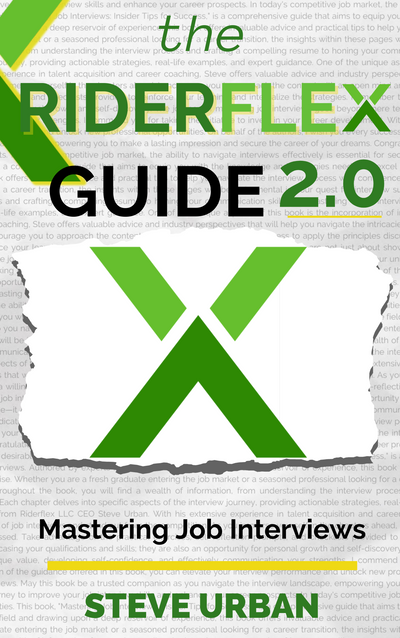 Now Available: The Riderflex Guide 2.0, Mastering Job Interviews
Riderflex Guide 2.0, Mastering Job Interviews is your indispensable companion on the journey to career success. In today's fiercely competitive job market, acing interviews is the key to unlocking your dream job. This comprehensive guide equips you with the essential knowledge and strategies to excel in job interviews. In a world where first impressions matter more than ever, this guide provides the tools you need to stand out and secure coveted employment opportunities. Whether you're a recent graduate entering the workforce or a seasoned pro looking to switch gears, the insights within these pages will prove invaluable. The book's unique format allows you to read it cover-to-cover for a comprehensive understanding or to dive into specific chapters tailored to your needs. From interview preparation and mastering common questions to handling difficult inquiries with confidence, this guide covers it all. You'll also learn how to excel in virtual interviews, build rapport, and leave a lasting impression. Job interviews are your gateway to success, allowing employers to evaluate your qualifications and personality. By adequately preparing, you can significantly boost your chances of success. Let this book be your trusted companion as you navigate the interview landscape, empowering you to make a lasting impression and secure the career you've always desired.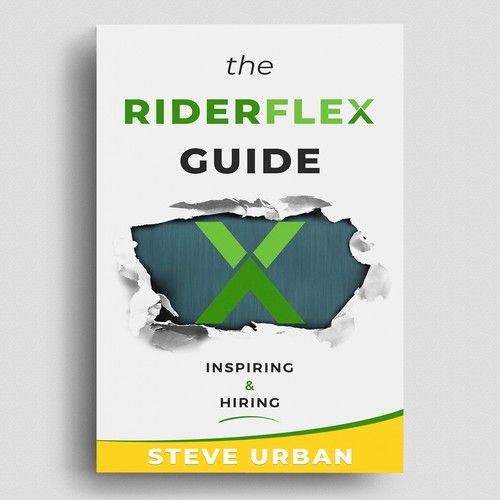 The Riderflex Guide, Inspiring & Hiring
Recruiting, hiring, and managing today's workforce presents new challenges. The landscape has changed with the entry of another generation, bringing their own rules and expectations. How can you find, hire, lead, and inspire the best people for your team?
"The Riderflex Guide: Inspiring & Hiring" presents 85 of the most useful tips from an executive recruiter with more than 30 years of combined experience in management, executive-level leadership, and recruiting.
Riderflex founder Steve Urban offers nuggets of knowledge, advice, and tips for everything from interviewing candidates to managing a remote workforce and dealing with difficult employees. You'll learn how to turn texters into talkers who communicate more effectively. Steve also offers insight for achieving the right work-life balance, starting a business, and turning your career into a journey filled with fulfillment, gratitude, and no regrets.
About the Author
Steve Urban, an accomplished leader with a prolific career, has always had a keen eye for talent. As the Founder and CEO of top-rated recruiting firm Riderflex, Steve's unmatched expertise in matching the right talent with organizations is widely acknowledged. Beyond this, he extends his leadership acumen as the Co-Owner of both Kura Home Maintenance in Colorado and Presley Rose Investments, a residential real estate company, alongside his wife, Kim Urban.
Before venturing into the literary world, Steve pioneered the Riderflex Podcast, offering free career and job interviewing advice. The podcast, which regularly hosts eminent entrepreneurs and executives sharing their tales and insights, quickly gained traction and acclaim. Inspired by the success and impact of the podcast, Steve authored "The Riderflex Guide" series. His latest offering in this series is "Mastering Job Interviews." Specifically crafted for candidates, this book serves as an indispensable guide, steering them through the intricate labyrinth of job searches and preparing them for interviews. The broader "The Riderflex Guide" series delves into diverse topics including leadership, mentoring, interviewing, hiring, and general career advice.
Steve's storied past as CEO, COO, and President of multiple $40 million companies has bequeathed him with invaluable experience. His journey saw him masterfully navigate the complexities of retail, wholesale, and mid-level operations, setting the stage for his subsequent ascensions to top-tier leadership roles. His adeptness in operations led to several remarkable company turnarounds.
Outside his professional endeavors, Steve cherishes his roles as a husband, father, and grandfather. An avid lover of the great outdoors, Steve finds rejuvenation in camping, overlanding, and embracing nature's grandeur.
Living by the guiding light of his mantra, "I don't want my life to be dictated by things; I want my life to be dictated by the experiences I'm chasing," Steve exemplifies the pursuit of meaningful experiences over materialism. His mission is beautifully encapsulated in his core purpose: "To help people find professional happiness."
Those yearning to cultivate their professional prowess can tap into Steve Urban's expertise, as he is available for career coaching, speaking engagements, advisory roles, consulting, and board of director positions.