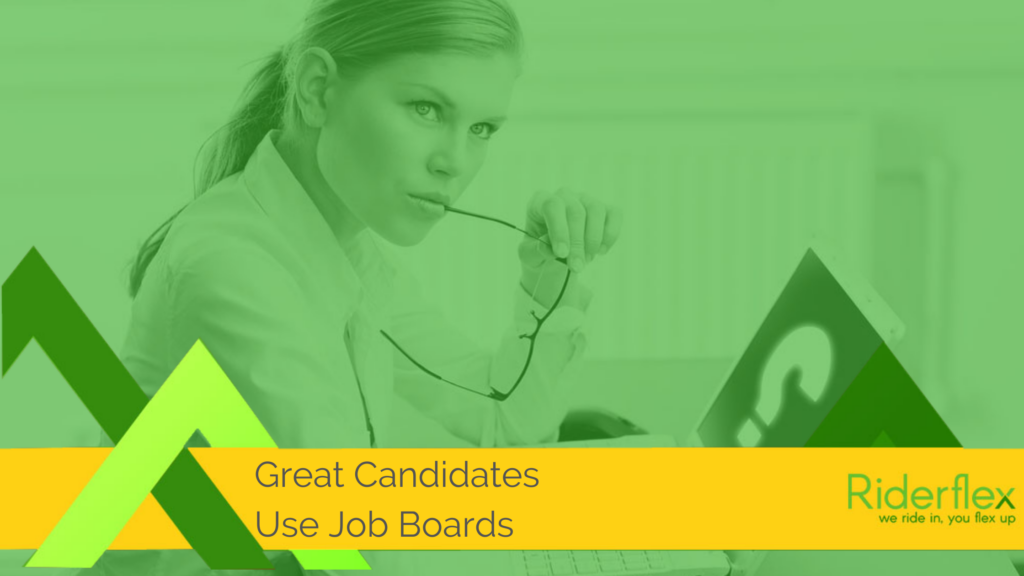 Great Candidates Use Job Boards
Brianna Derrera
Great and qualified candidates do use job boards. They apply through LinkedIn, Indeed, Monster, and all different types of job boards can be found online. Keep in mind that not just unemployed people use job boards either.
Riderflex is a recruiting firm, we visit with clients and potential employers all the time. So often our clients say things such as "we don't want anyone who applies through indeed or any job board like that". This shocks us every time.
Great Candidates apply through job boards!
While we are the recruiting firm and, on a mission, to hunt down the best possible candidate for your clients position(s). That does not mean candidates who apply through a job board will be discounted or overlooked. Trust us, overlooking candidates who have applied via a job board is a terrible mistake. This is because great candidates apply through job boards.
There is a negative misconception about job board candidates.
People often think that candidates who use job boards are extremely desperate and applying for random jobs that they don't necessarily want. That is a false assumption. About 95% of people who apply through job boards are great candidates! Many candidates just want out of their current position and are applying for jobs that better fit their background. Hiring managers need to get over themselves, it is possible to use job boards to find great candidates.
Some situations are different.
If someone is recruiting for a higher-level position at a fortune 500 company those candidates may not apply through indeed, but don't write a candidate off who does. There are plenty of great CEO's and executives that do apply through job boards.
Good Recruiters do hunt around.
Yes, recruiters are paid to shop around and hunt people down but they should also always consider people who are applying directly through job boards. Don't miss out on the perfect candidate because of the misconception that job boards applications are not good enough for a position or company.
Lets get rid of the negative misconceptions about job boards and remember to consider all great candidates, no matter what channel they applied from!
For more tips and advice from Colorado's go-to headhunter and recruiting firm, check out the Riderflex blog and subscribe to our podcasts.