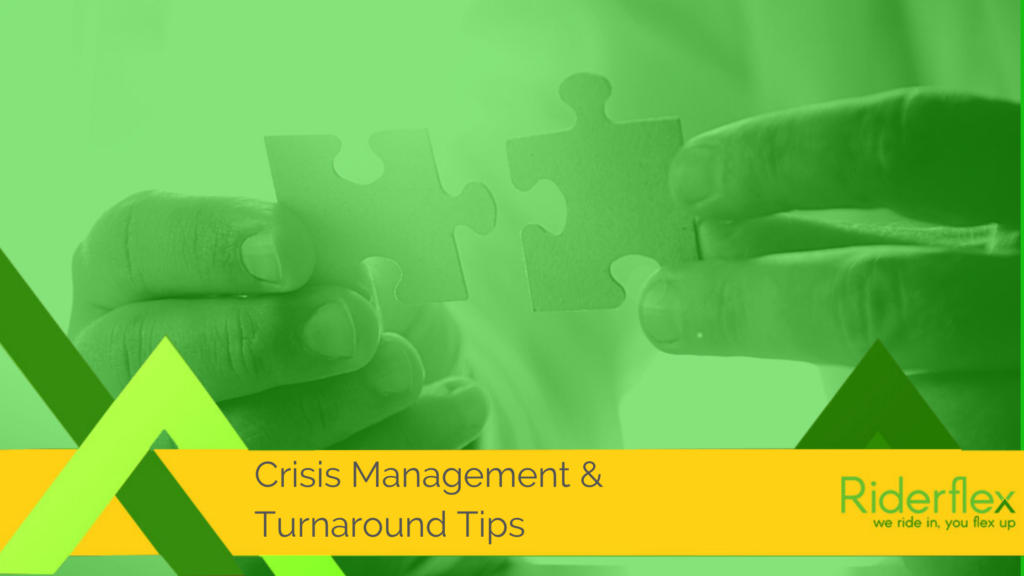 Crisis Management & Turnaround Tips
Brianna Derrera
Crisis management and company turnarounds are not fun for anyone involved. While looking for tips on this topic you will find an endless amount of information. It's incredibly important to make sure you are partnering with the right team to help with these transitions.
When our CEO, Steve Urban, was asked for some tips on this topic, these are the first four he thought of. While they are not necessarily the top four, they are important and beneficial for anyone in a leadership position at a company going through crisis management.
#1. Cash flow management:
The first thing that needs to be done is getting a cash flow forecast from whoever manages money for your company, whether it be a CFO or accountant. Ask them to create a six to eight-week cash flow forecast. This will show your projected sales mixed with your routine expenses. When you receive that, ask them to remove 10% from that number and manage the company using this forecast moving forward.
Why should this be done?
Generally, in a situation where the company is in crisis, the person forecasting may not be realistic with the forecast, unless they have gone through this before. Knocking 10% off your cash planning will ensure you are being realistic in your planning for the upcoming months.
#2. Detailed expense review:
Have every manager at your company bring you their expenses and go through them by line item. Line item meaning, every transaction broken down specifically to see what it is. Ask the manager to suggest and think about what line items can be reduced and cut from the budget.
Incentivize the employee doing this by offering 10% of the savings back as a bonus. As an example, if you have an employee that cuts their budget back 10,000, give them a 2000 bonus and save 8000 in return. It is a win on both ends.
#3. Overhead Reduction:
When you are going through crisis management or turnaround management you are going to have to do some layoffs, that is generally unavoidable. When you are making the decision on who to lay off, try to keep potential over specialists.
What does this mean exactly?
Keep the employees that can handle and work outside of their comfort level and job description. With less employees you will need flexibility and potential to scale out and do more, vs employees who cannot.
#4. Do not make decisions with the founder involved:
When you start to make drastic changes to a founder's business, keep in mind how hard it will be on the founders. It is just easiest to not have them around. They will be an added layer of difficulty to the already tough decisions. Removing them from the situation and decision making will be the best way to deal with that.
As mentioned before, these are just four of the endless lists of tips you can find on this topic. When going through this situation in a business, remembering these four simple tips can help make the stress a little bit easier.
For more tips and advice from Colorado's go-to headhunter and recruiting firm, check out the Riderflex blog and subscribe to our podcasts.